You know how I said that I was going to stop designing? Well, I decided that if I just did 3 simple designs a month, it would be okay. I'll still have time for God, Sleep, Writing, and School.
So Those of you who entered my Blog Design Giveaway a while ago, if you still want a design, you can got to Calm Water Blog Design to get one :)
So, yes. I'm designing again. But it's Very, Very, Limited. Only 3 designs a month. So I'll only have to spend 10 to 15 minuets designing every few days. Which is actually pretty good, since before I was spending up to 2 hours a day designing!
I'm actually really excited about starting to design again. I can't wait to see you over at Calm Water! :)
---
Also, one of my bff's, Widgy, now has a blog:
GATHERING DREAMS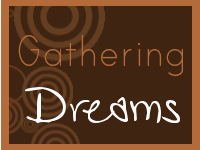 You all defiantly need to go and follow her because she is SUPER Awesome, and you all will LOVE her!